In the past, we have participated in our area Race for the Cure as Breast Cancer awareness is a fight that I am always supporting. However, this year, it took on a whole new meaning. As most of you know, my mom received the shocking news in late September that she had breast cancer. She had a double mastectomy, went through chemotherapy followed by thirty days straight of radiation. She came out on top. She is a fighter. She never lost faith. She endured more than I can ever imagine possible and yet, she never asked "Why me?". Instead she said "Why not me?". Talk about a woman of strength and faith. I am so proud to call her my mom.
Several of her amazing employees formed a team, Betty's Bunch, to walk in her honor this year. Even though I knew the race would take place only one month shy of my due date, I knew I wouldn't miss it for anything. Thanks to so many loving and supportive family and friends we were able to raise a little over $1,000!!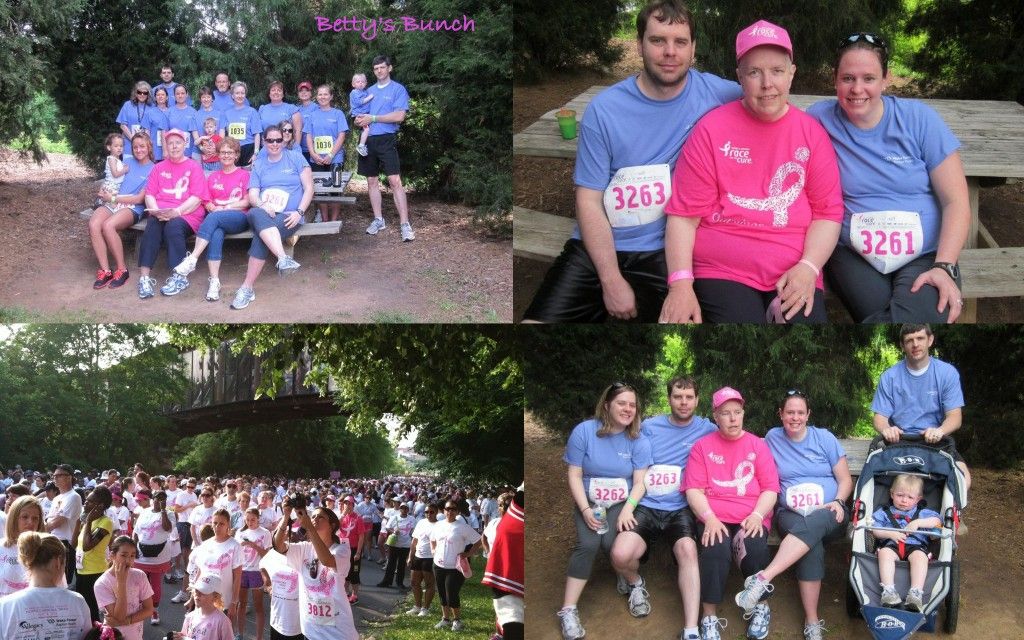 Perhaps the one moment that stole my heart and caused tears to form in my eyes was the moment I saw Brian and Mason walking across the finish line. While Mason is too young to understand what was going on, one day I will tell him he was walking in honor of his Grammie.
So thank you all. Thank you for your thoughts. Thank you for your prayers. Thank you for your generous donations. Just because my mom has completed her treatments doesn't mean we don't stop fighting. Each year we will walk in her honor. Each year we will raise money for breast cancer research. And girls/ladies/women.. do yourself a favor. Take care of yourself and get checked!