This giveaway is now closed. Thanks to all those who entered!
I have long been a follower of Kelle Hampton and her amazing blog,
Enjoying the Small Things
. Kelle, a mother of 2 amazing girls, has a way with words. She is real. She is honest. She doesn't hold back. The love and joy that fills her home can easy been seen and felt through her pictures.
One of her most "real" moments came when her second daughter, Nella, was born and it was discovered she had Down syndrome. The thoughts and feelings she so openly shared in
this post
brought tears to my eyes. Since then, I have been hooked.
Kelle recently released her memoir,
Bloom
. As soon as I heard she was writing a book, I knew I had to buy it. Sure I could download it on the kindle but I wanted a real copy. From the
website
:
"Bloom

is an inspiring and heartfelt memoir that celebrates the beauty found in the unexpected, the strength of a mother's love, and, ultimately, the amazing power of perspective."
If you would like to find out more about Bloom, head here to read a
description
of this beautiful book.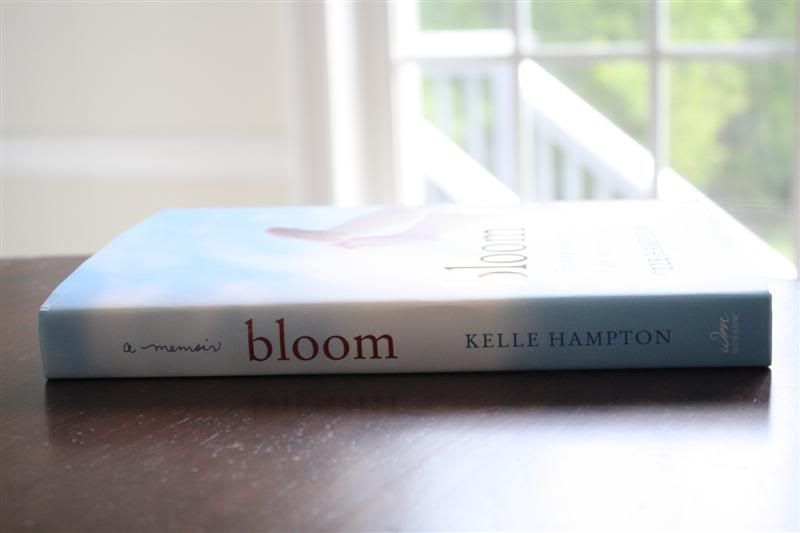 Now comes to fun part. When I went to Target to pick up my own personal copy of the book, I decided to
also pick up a second copy to give away to one of my wonderful readers! This is a gorgeous, colorful hardback copy of Bloom.
To Enter:
1. Become a follower of my blog through Google Friends Connect and leave me a comment letting me know you did so.
2. Just for fun leave me a comment telling me your favorite summer activity.
Giveaway closes Sunday, April 15 at 8:00pm EST and Winner will be announced Monday, April 16th.
Be sure to watch Kelle on the Today Show with Hoda & Kathie Lee tomorrow (Wednesday 4/11), where she will be talking about Bloom.
Kelle Hampton has no idea who I am. I was not compensated for this giveaway. I bought both copies of this book with my own money and just wanted to share the love with my readers.