At the beginning of February, Mason started going to a two day/week mother's morning out "school". I was the most apprehensive about this. I can't even begin to explain all the thoughts that were going on inside of my head. I knew he needed the socialization. I knew it would be good for him. And for me too. But at the same time, my "job" is a stay at home mom. My job is to take care of him. I felt like a part of me was failing at my job because I was sending him off to "school" for a total of 6 hours/week. In the corporate world, no one gets 6 hours of free time during their work day. It was just a hard pill for me to swallow.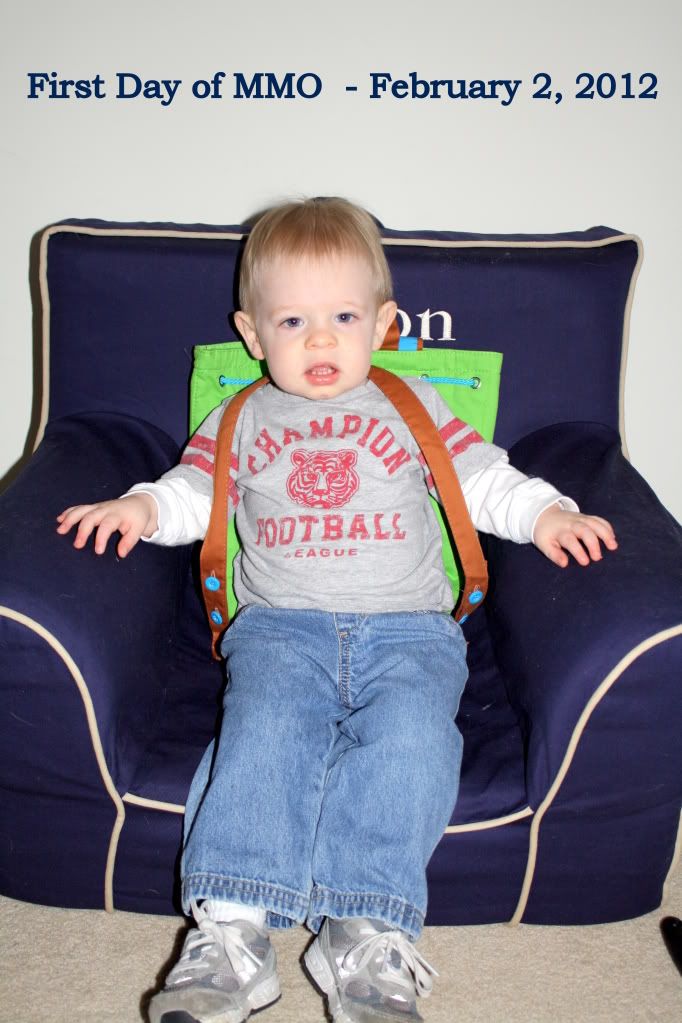 I get nervous in new situations. Always have and probably always will. I can't help it. So needless to say, I was very nervous for his first day. I tried not to show it and tried to be upbeat and happy about it towards Mason. The whole way there I said "YAY, you are going to get to play with some new friends". "You will get to see McKinley (his "girlfriend" happens to be the same class)". I did my best to put on a smile and not show that my heart was breaking inside. It was breaking because I knew what was to come. I knew there would be cry. I knew there would be reaching back for Mommy. I knew there would be me walking away while my child cried out for me. HEARTBREAKING!!
Brian offered to take him. He knew I would be a mess. But I knew this was something I had to do as much for Mason as for myself. So when the day rolled around, we walked into school at 9am and did it. It wasn't easy. It wasn't fun. There were tears from both of us. But we did it. I promptly called Brian at work as soon as I got back into the car and cried. He reassured me that everything would be fine and they would call if Mason didn't settle down. I was 100% expecting a call within the hour asking me to come get him. But... that call never came!!! Brian and I met at pickup time and walked into the school together to pick up our little man from his first day of "school". We did it. We survived. Both of us! And to celebrate... we headed to Chick-fil-A for lunch and then to visit Grammie!! Is there any other way to celebrate?? I think NOT!!
Since then Mason has gotten better and better each time. Last week they told me he had his best day yet and only cried for 30 seconds after I dropped him off. My little man is growing up. I love that he is getting this play time and socialization with other kids his age. I know how important it is for him and his growth and development. With #2 on the way, I want him to know that being around other kids is fun and enjoyable.
So we survived. Who knew the first day of "school" would be harder on mommy than on Mason?