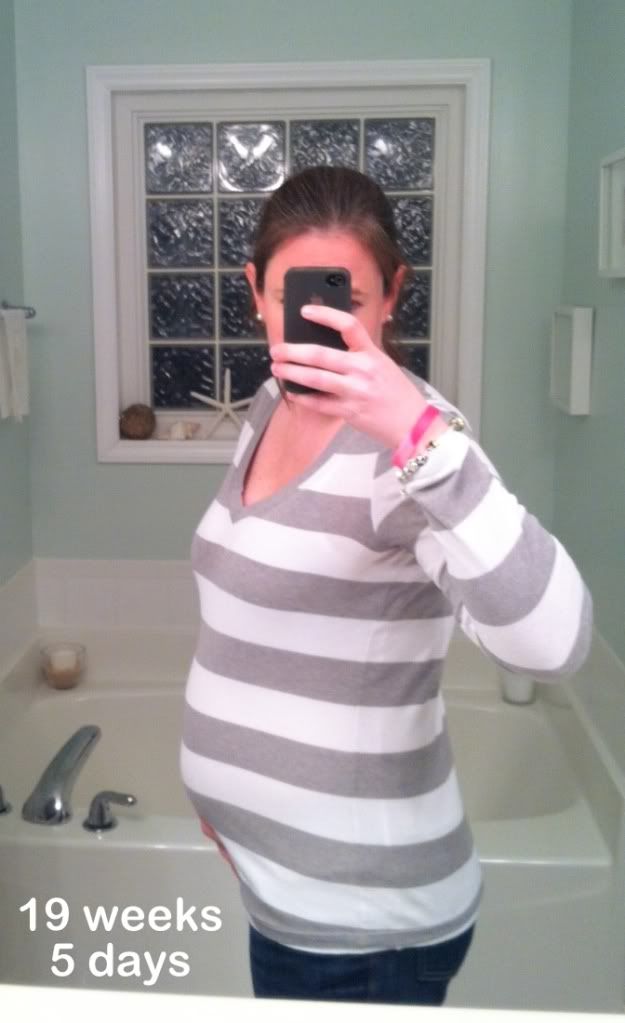 Once again.. Better late than never. As of today, I am HALFWAY so I thought I better get this up now.
How Far Along:
19 weeks (& 5 Days in the picture)
Size of baby:
A Mango.
Total Weight Gain/Loss:
I have no idea but if my eating is any indication, I would say I've gained A LOT this week. Can't stop eating!!
Maternity Clothes:
Pretty much maternity everything. I'm carrying a lot lower this time than I did with Mason so I need the maternity tops for the length.
Gender:
A sweet baby
GIRL!!!!!!!!!!!!
Movement:
Yes! She is certainly an active little thing!
What I miss:
Still missing my turkey sandwiches.
Sleep:
Great as of late! Mason is back to his sleep loving self so momma is happy!
Symptoms:
I can feel some tightness in my lower abdomen but nothing painful.
Cravings:
Candy. Anything fruity and gummy and SOUR.
Best Moment this week:
Teaching Mason to "hug" and "kiss" his baby sister. He is going to be the best big brother. I asked him if he loved his little sister and his response was "Yeah". So sweet. We also took Mason to get his first haircut! He looks like a little boy now and no longer a baby.
What we are looking forward to:
Starting the nursery.Crib arrived today!