Playing catch up, BIG TIME!!! Considering I am 18 weeks along as of yesterday I thought I better get the 17 week picture and survey up!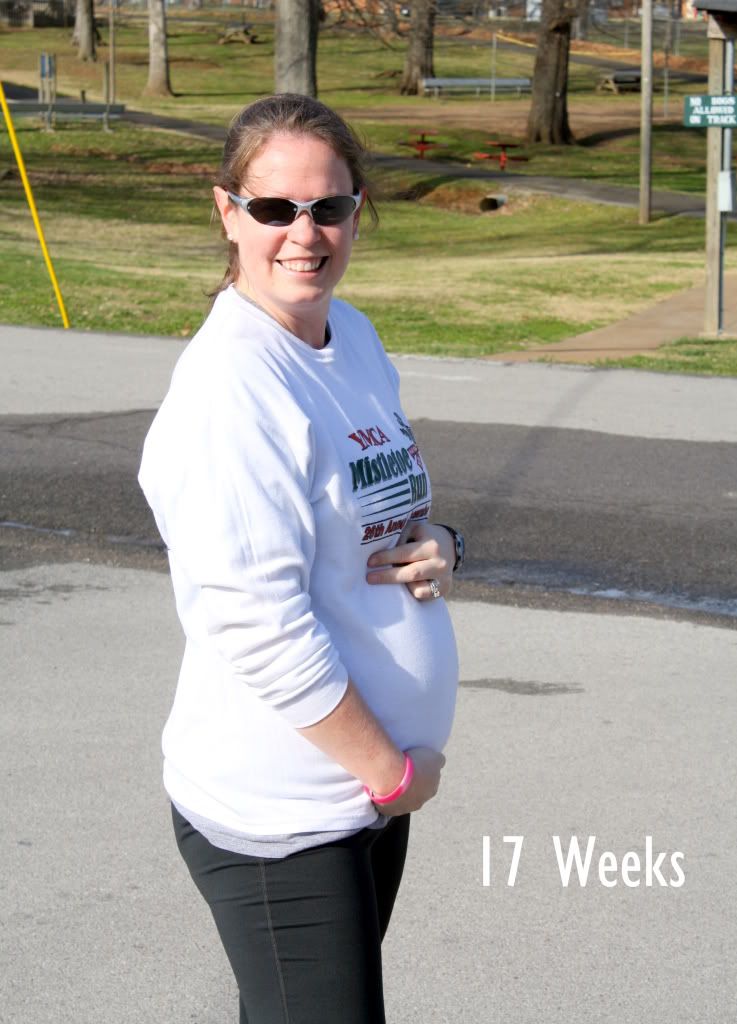 I ran my last 5k on the day I turned 17 weeks (in Tennessee) hence why I am looking rough and in workout clothes. But I am proud to say that I have completed my 12 in 12 goal (12 5ks in 12 months)! More on that goal in another post!



Size of baby:

AN ONION! (5.1 inches long)



Total Weight Gain/Loss:

I'll find out Monday, which I dread. I certainly ate for 2 over the holidays!





Maternity Clothes:

Pants, yes. Everything else is still my regular clothes.



Gender:

We will find out Monday!!!



Movement:

Yes! I have felt the baby move a few times and Brian was finally able to feel it move the other night! It was very faint but he still felt it!





What I miss:

Nothing. Not even turkey sandwiches!



Sleep:

Pretty good. Mason is working through some sleep regression issues so aside from that, I've been sleeping fairly well.



Symptoms:

Nothing major this week.





Cravings:

Candy - Sour Patch Kids, Swedish Fish, Gummy Bears, Starburst.. anything fruity or gummy.





Best Moment this week:

Feeling the baby move!



What we are looking forward to:

Finding out the gender on Monday!