October is Breast Cancer Awareness month. I have always been a big supporter of breast cancer awareness and our triad Komen foundation. We participate every year in our local Race for the Cure, I make donation to the Komen Foundation and I even ran my first half marathon to support breast cancer research:

26.2 with Donna.
Several close family members and one of my sweet cousins have fought breast cancer. Thankfully I can say that the vast majority are now survivors of breast cancer and wear their shirts proud.
I must admit, while I have always been a big supporter for breast cancer awareness, there hasn't been a time that I really sat down and thought about the effect it can have on a life. However, this all changed last Friday. September 30 at 11:00am to be exact. This is when I got the phone call. My sweet, brave, loving mom called to tell me her biopsy was positive for cancer.
Say What?!?! My world came to a halt.

Now, I will say that we are so very thankful that it was caught early. The lump (7mm) is so small that it can't be felt but it did show up on her annual mammogram.

The doctors predicted it would take another 3 year to grow large enough to be felt. Therefore it is still early and it is Stage 1. We Praise God for this news. I praise God that my mom is diligent about her mammograms. I praise God that with surgery and surgery alone (pending her nodes are okay) her cure rate will be 99.5%.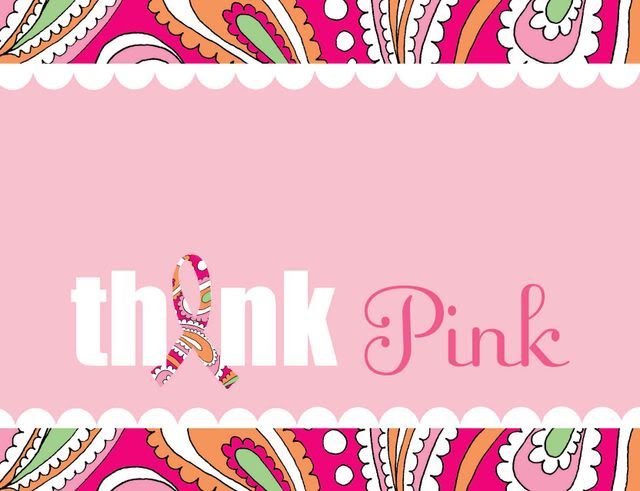 I know this road to recovery will be long. I know I will need to step up to the plate and be her support line. My dad can't do it alone. I'm her only daughter and I will be there for her… every step of the way. If you know my mom, you know how strong of a woman she is. You know how strong her faith is. While I am sure her physical strength has been tested during all of this, I know her spiritual faith never wavered. She never said "Why me, God?". In the words of Jars of Clay... "with faith like a child". I admire her more than words can say.
Through God and with God all things are possible. A sweet blog friend, Meredith's, mother was diagnosed with Stage 1 breast cancer last year. She is a 1 year survivor!! During her treatment, they lived by this verse and it is something that I have been repeating to myself over and over lately…
So right now my mom is currently undergoing a 5 hour surgery to ride her body of this awful cancer and I have faith she will come out on top. She will beat this. She will fight. We will fight. And we will be stronger because of this.
As I close I ask two things: 1- if you are of age or know a woman of age, please please please have an annual mammogram. They can save your life. 2- Say an extra prayer for my sweet mom and our family.