Well Mason is closer to eleven months now but I still wanted to get this on the blog so I could look back on it.
Mason,
You are so close to walking on your own. You can stand for an extended period of time by yourself and you walk the furniture or by holding on to someones hand. You are also one speedy crawler. You love to clap, "sing", play with the dogs, get into the kitchen cabinets, "help" mommy with laundry and just be a happy baby. Your eyes light up when you see Daddy walk in from work and you "run" right to him. I love it. We have been dealing with a little stranger/separation anxiety but we are working on it and you are doing much better. You still love anything we put in front of your mouth and continue to drink 3 or 4 8oz bottles/day. You are also taking water and organic whole milk from a sippy cup and doing so well with both. You love to snack. Well... you love food in general. You would eat all day long if we let you. Bath time still remains one of your favorite parts of the evening. You and Daddy have an awesome bedtime routine down... bath, book, bottle, burp, bedtime prayer (mommy does this with you), bed. You are a creature of habit and do so well with your routine. You are wearing mostly 12m clothes b/c you are so tall and size 3 diapers. Teething has been a challenge as of late. You have 2 bottom teeth and 1 upper tooth with another one on the way. Your poor gums are so swollen and red. We can't wait for that fourth tooth to hurry up and come in so you won't be in so much pain. You continue to grow up right before our eyes and sometimes I wish I could just stop the clock but I love the little man you have become. Thank you for being such a happy baby and blessing our lives more than we dreamed possible. We love you!
These monthly pictures continue to get harder and harder to take since our little man is so active now. So I thought I would share some of the outtakes. I may or may not have turned on the TV so he would sit still for just a second... hence the reason he isn't looking at the camera in many of them.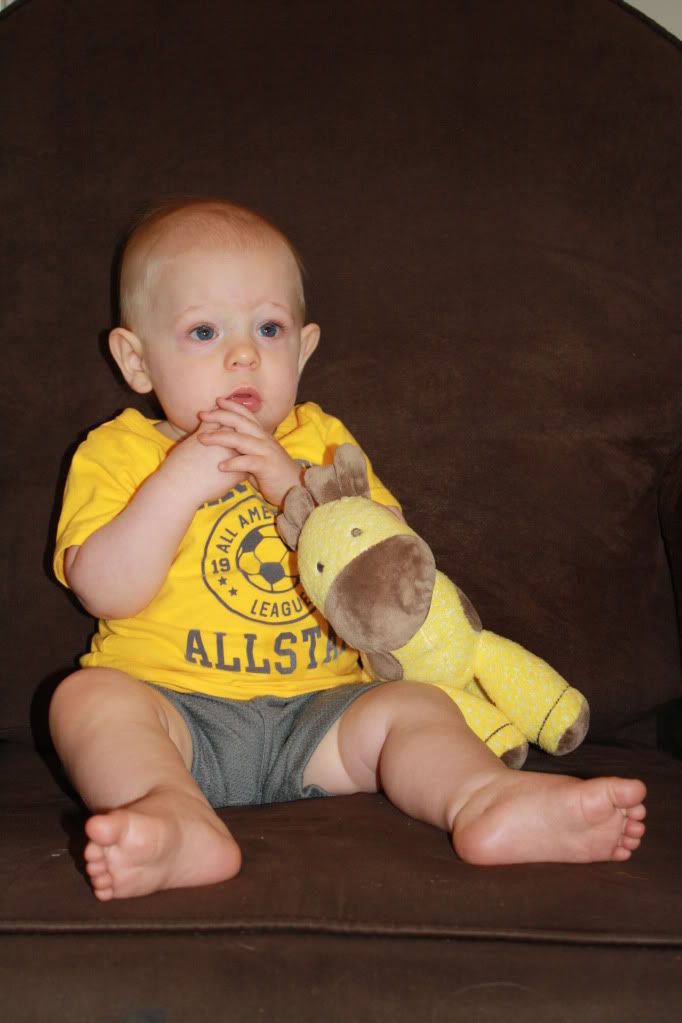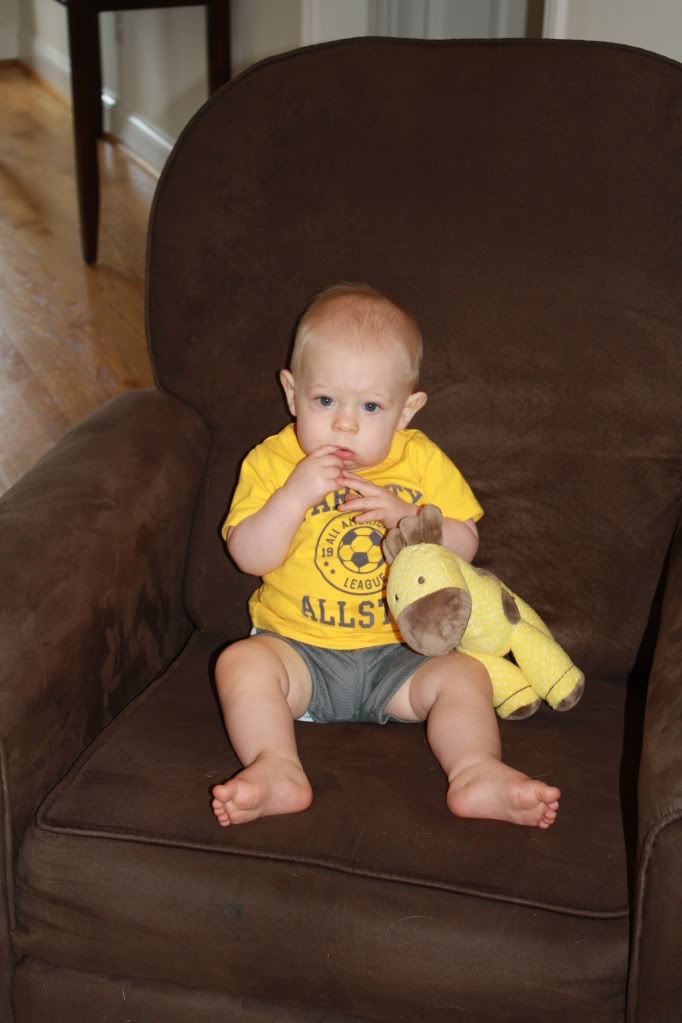 And for comparison....